Simplicity 2638
I thought I would share one of my very first makes. This is the Simplicity 2638 maxi dress which is part of the "It's so easy" range. I bought it last year just before I went on holiday to Turkey. I really like the close fitting empire line shape and the sort of racer style back.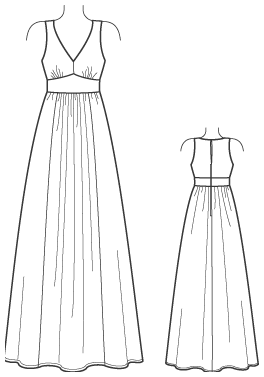 I really like the pattern itself but I really hate the fabric. Basically it was a bed sheet that I bought at a local thrift shop. It is covered in little blue flowers which grade between light and dark blue. I decided I wanted the darker colour at the top which it turn meant that they are all upside down. I just cant really get past the bed sheet thing and I think it has missed the cool boho look and it ended up more like a granny nightie.
Fabric colour variation
Looking back at some of my makes from last year has also given me a chance to see where I have improved in my sewing. Here are three of the top things I think I do differently now;
Press
- Back when I made this I was in my old flat which had an iron shared between 6 people. The lack of pressing definitely shows now that I look at it again.
Clip
- I think I also had a bit of a fear of cutting into the seam allowance to get a nice sharp point in the centre. I feel I would be more confident if I was to do it again.
Unpick
- I would also make an effort to actually line up the seams. back then if I had sewn something together I was very unwilling to take it apart. Now I will quite happily take it to bits if it means that I will be more satisfied
with the finish.
Racer style back
The zip is a bit dodgy too but I think that just comes with practice. Having said that as a first attempt at a concealed zip it was actually not too bad.
Dodgy zip
Anyhoo, I still have hope for this pattern and although the the next maxi dress I make will probably be the
BHL Anna
, I think I will still try it again for this years holiday. However, this time I will be keeping an eye out for some more modern and funky looking fabric so my wardrobe doesn't remind me of old ladies.